The Quality Score of your Google Adwords campaign is the Xfactor that will determine whether you get a great cost per click or not.
What is a Google Quality Score?
Google calculates a Quality Score for every keyword you use on Adwords.
It is crucial in establishing what position your ads appear on the search results page (SERPS) when Google users are searching for your target keywords.
The four factors which we know help toward this are Score are; Click-Thru Rate, Advert Copy, Landing Page and Historical Performance. I will cover these in more detail further on, so keep reading.
How can I see my Quality Scores?
If you go into your Adwords accounts you can see what your own Quality Scores are:
1) After logging into to  you Google Adwords, click on "Ad Groups" from the navigation menu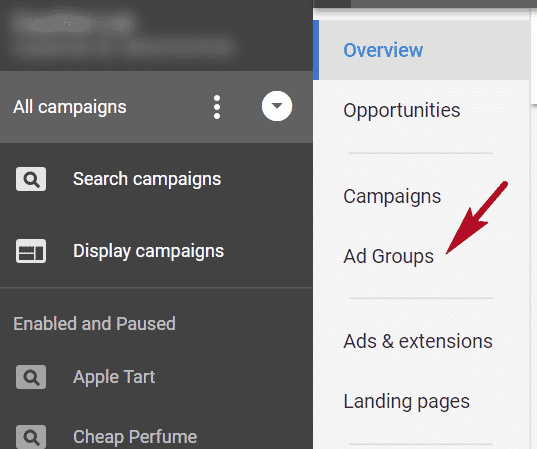 2) Select any active Ad Group from the list in the main area of the page.

3) Once you have selected an Ad Group, click on "Keywords" from the menu.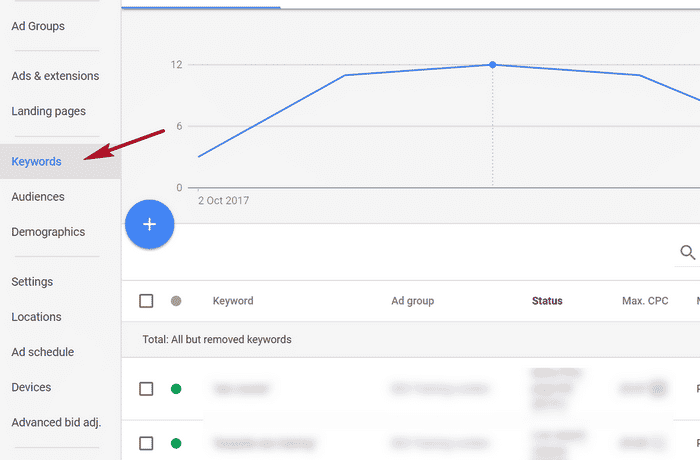 4) Now click on the "Columns" icon shown at the top-right of the Keywords table.

5) From the pop-up menu that appears, select "Modify columns"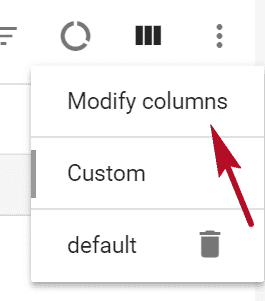 6) You will now see the "Modify columns for keywords" control panel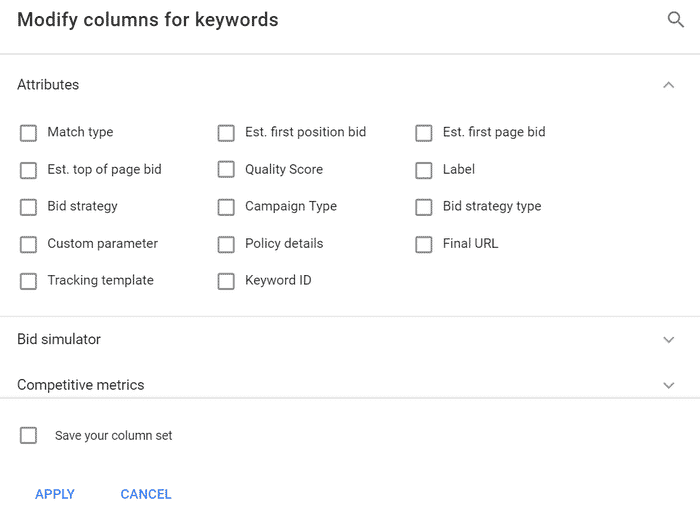 7) Drop down the section, "Attributes" and place a tick in the box labelled "Quality Score".
Don't change any other attributes that may have previously been selected.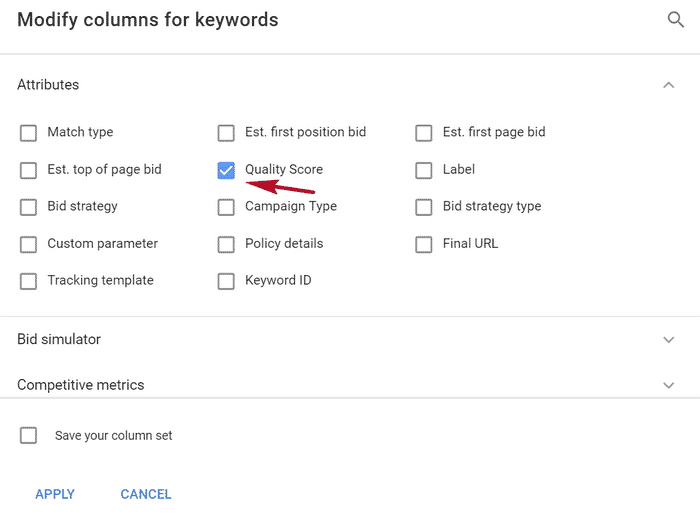 8) Now click on "Apply" at the bottom of the Modify columns control panel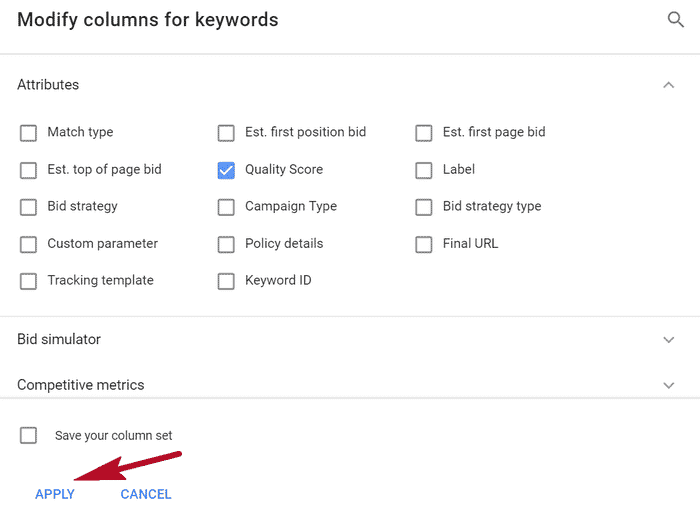 9) Scroll to the right of the main Keywords table and Bob's your uncle! You should now see a new column labelled "Quality Score".
(Your table may look slightly different from my examples depending on how your Keyword table is set up.)

If you don't see any Quality Score values in the column then don't worry. If your actual campaign is new then it needs to run a while before Google can capture the data. Quality Scores are set partly based on how your ads perform (click thru rate) so you need a few clicks/actions under your belt. Just check back again week by week.
If you need help check out this article from Google on Quality Scores.
What is Quality Score for?
Simple, it's to stop irrelevant listings appearing to us. It is ultimately a relevance score to appeal to searchers to keep them choosing Google first. Ads appearing in the top positions must be deemed as highly relevant to the users' needs and attract the user to want to click on the ads.
Why is Quality Score important to advertisers?
A Quality Score ranges from 1 (the lowest) to 10 (the highest). If your Quality Score is high your ads will appear in a higher position on the page. You can EVEN appear more prominently than your competing advertisers who may actually be bidding more than you. This is because a high Quality Score is deemed better for the user so Google is likely to serve your ad up higher. The downside to this is that if you have a LOW Quality Score then you will struggle to ever get a decent position no matter what budget you throw at Google.
What factors effect Quality Score?
Google never gives away its secrets, so true Quality Score is a mystery. However, we know that the following are massively important (shown in order of value):
1) Your Click-through Rate (CTR)
CTR can vary from industry to sector but the industry average is around 2%. Anything 2% or above is classed as Good. Anything below 1.5% is poor and needs improving to effect your Quality Score positively. You make these improvements through changing your adverts. Make the copy of the adverts more relevant to the target keywords, make punchier call to actions or make it clearer why users should choose your business. If you have set prices, offers or promotions make sure you mention these. Also make each first letter of your key services, or important features, a capital letter to make them jump off the page.
Always, always, always use ad extensions. These give the user more clickable options, make your advert stand out and showcase your best features.
Remember that your job as an advertiser is not to convince people to buy your product or service. They are already searching on Google so they have the desire to buy, or use what you do. Your job is to convince them to buy them from you. Make sure that your unique selling point (USP) comes across in the small space that you have. Stand out from your competition!
2) Relevant keywords also in your ad copy
Make sure your advert copy and the keywords match up. For instance if you target the keywords "Google Advertising in Wakefield" make sure you use these words in the copy on the advert like "…experts in Google advertising in Wakefield". If you use more relevant copy (or words) in your ads that match with your chosen keywords you will earn a higher Quality Score.
3) Good and relevant landing page
Google wants users to land on a page on your website which matches what they were searching for. If the user wants "Google Advertising in Wakefield" and lands on a page showing "Facebook Page Management in Barnsley" they are not going to stay on the website – its not relevant to what they were searching for.
Also the quality of your website, or landing page, is key. How does it look on mobiles? Is it mobile or tablet optimised? How quickly does the page load? All of these things effect the Quality Score and user experience. If your website, or landing page, is in the dark ages then save yourself time and money on Google Adwords and get your website upgraded first.
If the keywords and imagery on your landing page match with the advert keywords (IE: they are relevant) and your website is technically good then your Quality Score will improve.
4) Your historical Adwords performance
If historically your ads have performed well then Google wants to show your ads. If your past campaigns have consistently achieved poor Quality Scores then you need to fix this if you want Google to start serving your ads more.
Conclusion for SMEs in Yorkshire
Improving your Quality Score is an essential part of running effective and profitable Adwords campaigns. Or if you have yet not seen the benefits from Google Adwords then you, or your marketing company, need to be aware of your Quality Score from the very beginning.
If you feel you need any help or guidance on Google Adwords, website assessments or improving landing pages then please get in touch on 07960 485173 or lucy@beseenbefound.co.uk – advice is always free!